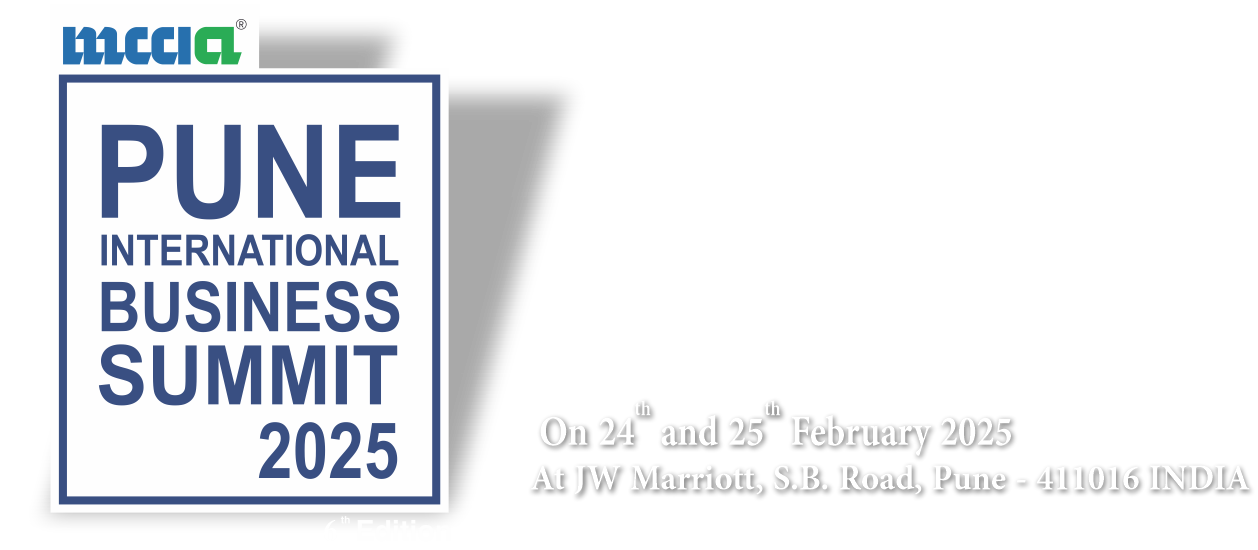 (5th edition)
MCCIA is pleased to announce the fifth edition of 'Pune International Business Summit', to be taking place on Monday, 26th February and Tuesday, 27th February 2024 at JW Marriott, Senapati Bapat Road, Pune. The main focus will be on International Trade and Investments, Global Supply Chains and Business Partnerships with Companies from abroad.
At the fourth edition of the Summit, we had the privilege of Inaugural Message from Hon'ble Shri Piyush Goyal - Minister for Commerce and Industry- Government of India as well as Secretaries and other senior officials from Government of India and Maharashtra, Diplomats and Trade Commissioners as well as business delegates from various countries.
After the success of the fourth 'Pune International Business Summit', MCCIA is putting all efforts to make the fifth edition to be even more intense in terms of its impact, to add a further momentum to Pune's International Business.

What will it offer
International Trade and Investments opportunities with '20+ countries'

Sessions by Diplomats; Consul Generals; Trade commissioners and Govt. Authorities of India
Key Trends in Policy, Trade Perspectives, Investments and emerging prospects
Strengthening the existing Global Supply Chains and developing alternative ones
Exclusive Pavilions for different countries




B2B Meetings

Business Partnerships with Countries' representatives (Consul General and Trade Commissioners)
Companies from abroad (Foreign Delegations)
Advance slot booking for meetings with Trade Commissioners/Delegates




Industry specific foreign delegations from '3 verticals'

Auto - EV – Manufacturing;
Agri – Food processing;
Information Technology (IT & ITes)




Internationalization of Indian Business Women/ Women Entrepreneurs - Opportunities & Challenges

Interaction with successful business women
Panel discussion on their Challenges and Success stories
Separate Booth for Women Entrepreneurs




Display of Culture by Foreign countries with Networking Dinner

Stage Performances by foreign countries (including India)
20-minutes slot for each country
Display of Culture; Heritage; Food in their respective Pavilion




Participant Countries
Last edition: 11 countries
In this edition: 20+ countries
CXOs Participation
Last edition: 250 companies
In this edition: 300+ companies
Value Propositions to Partners/Sponsors:
Prominent organisation branding via Invitation letters to 108 Country representatives (Consul Generals/Trade Commissioners)
via email and WhatsApp campaigns to 9500+ member companies
via Social Media handles of MCCIA (Facebook, Twitter, LinkedIn, Instagram) to 135000+ target audience
Complementary 1 Pavilion/Booth at JW Marriott to showcase company's products & services
Strategic logo display in Backdrop; Standees; Photo-Booth; Bill Board and MCCIA's monthly magazines
Speaker invitation for CEO/MD (a 20-mins slot) to share the Success stories in International Business
Contact